A Guide to Easigrass Artificial Grass
Having a lush, green lawn that lasts all year round is the dream for most homeowners. Sadly, often the changeable British weather, pets and general wear and tear can make achieving this virtually impossible. This is where Easigrass Essex & Hertfordshire comes in with our extensive range of artificial grass products, which provide a perfect alternative to traditional lawns. 
But what exactly do we offer? In this guide, we'll explore the benefits of artificial turf, so you understand how Easigrass can enhance your garden.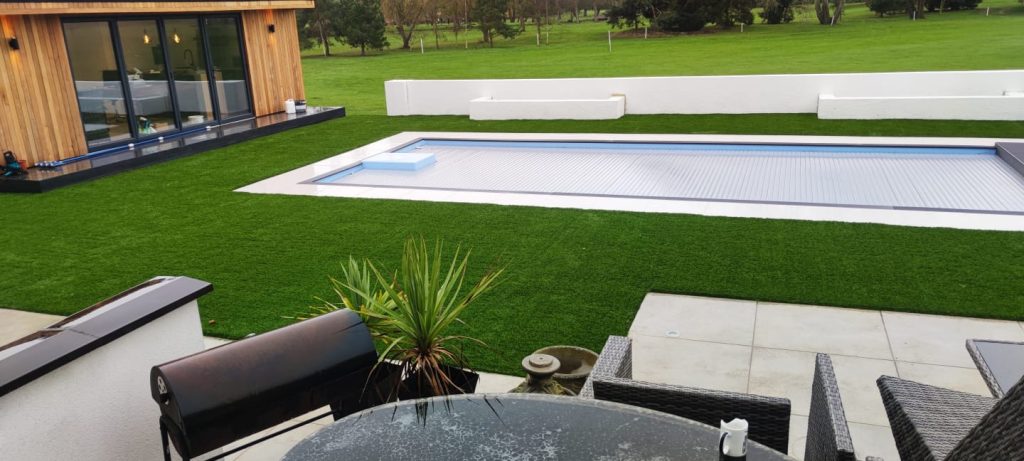 What are the benefits of artificial grass?
Low maintenance
Unlike natural grass, artificial lawns require minimal maintenance to keep them looking in excellent condition. That means you can say goodbye to time-consuming garden tasks like mowing and watering and focus on what's important. All that's required is one annual maintenance service, but we can handle this with our Easi-Care packages so that you never have to lift a finger.
Enhanced durability
Artificial grass is incredibly robust and can withstand all manner of use and footfall. It can even endure activities like sports games and children's play without displaying any signs of wear. Furthermore, artificial grass is weather-resistant and will stay lush and green, even during times of drought or heavy rainfall. It also produces no mud, meaning that even if there's been a downpour outside, you can use your garden without worrying about dirt being tracked back through your home.
No need for fertilisers or pesticides
Unlike natural grass, artificial turf doesn't attract any weeds. This eliminates the need for chemical use on your lawn, creating a safer and more eco-friendly environment. With an artificial lawn, you don't need to worry about grass growth and can enjoy a lush, green garden without the need for fertilisers.
Child and pet safe
An Easigrass artificial lawn prioritises both hygiene and safety, making it the perfect choice for a household with pets or children. With shock pads incorporated into the grass, your little ones can play safely knowing that your lawn will cushion any unexpected tumbles. Furthermore, our artificial products utilise underlying filtration and odour-control technology that can swiftly dispose of pet urine to keep your lawn looking and smelling clean.
Easigrass artificial grass products
Easigrass Essex & Hertfordshire ensures that every setting is catered to with a vast choice of artificial grass products, including:
Kensington –

Due to its unique lawn fibre shape, Kensington grass can remain upright, even in the face of heavy footfall. Manufactured using two-tone green C-shaped yarn, this Easigrass product offers maximum durability and resilience.
Chelsea –

With its 40mm pile height and ultra-realistic appearance, this is Easigrass' flagship premier product. Crafted using soft artificial grass yarn, Chelsea grass provides a luxurious cushioning feel, ideal for creating a safe play area for children.
Belgravia –

Easigrass Belgravia grass has been praised for its ultra-realistic appearance, using a lighter green hue to brighten dull areas of your lawn and enhance the aesthetic of your garden.
Mayfair –

Boasting an impressive pile height of 50mm, Mayfair is the longest artificial grass option offered by Easigrass, adding a plush and full-bodied appearance to any lawn.
How is artificial grass installed?
The installation process begins with Easigrass-Protect, a product that helps to keep all edgings and walkways tidy. Then, your old lawn will be removed using specialist machinery that pulls up the grass and the root base.
A porous membrane will then be laid; this allows water to easily drain away and prevents weeds from growing. Heavy-duty and fine aggregates will then be placed on top to form a smooth surface, before the actual lawn is installed by our experienced professionals. All seam joints will then be glued together to create a flawless finish, before finally silica sand is introduced to stabilise the grass and provide support. 
Before leaving your property, a thorough clean up will be carried out by the Easigrass team to leave your garden looking just as we found it.
Here at Easigrass Essex & Hertfordshire, we supply and install a range of artificial grass products at homes throughout Stevenage, St Albans, Hertford and beyond. Over the years, we've garnered numerous accolades in recognition of our high-quality services — including multiple British Association of Landscape Industries (BALI) National Awards — and we're regarded as one of the leading figures throughout the industry.
Let your lawn become an oasis of greenery all year round — get in touch with our friendly team to learn more about our services.