The Benefits of a Home Putting Green
Home putting greens are a way to bring a touch of sport and play to your back garden. Whether you're a passionate golfer wanting a dedicated place to practice from home, or you're simply seeking a bit of added fun for your garden, an artificial putting green can be the answer. 
But is a putting green right for you and your home?
As a place for putting practice, family bonding and mental wellbeing, in this article we'll take you through the key benefits of a home putting green – and how to go about creating one for yourself. 
How to Create a Home Putting Green
The key to creating your own home putting green is to ensure that the design is tailored to you.
This means deciding on the layout and the number of holes – whether that's multiple holes or just a single one.
You can also customise the rises and falls of the green, to echo the real-life challenges of an actual golf course – giving you as much or as little of a challenge as you desire. 
The bespoke design and installation of your home putting green should be carried out by a professional company.
Easigrass are the UK's leading supplier of authentic artificial grass, and supply premier grass that mimics the look and feel of a professional putting green.
Our team will guide you through your options, and will lay the grass to your exact specifications to create a customised putting green that can be enjoyed almost immediately after laying.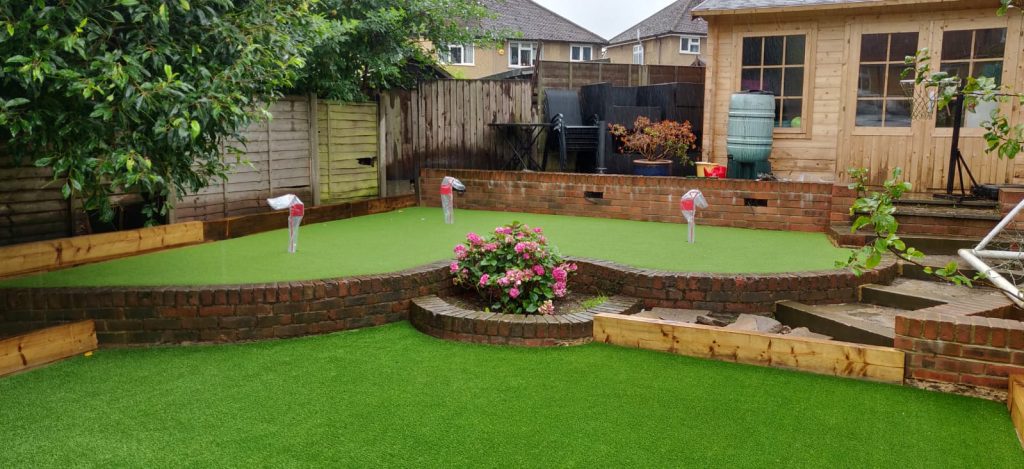 7 Benefits of a Home Putting Green 
Before you dive in and get started creating your artificial putting green, here are some key benefits you will enjoy. 
Leisure & sociability 
Get family and friends bonding over a relaxed game of golf – right in the back garden. Anyone can enjoy a home putting green, from the seasoned golfers all the way to the little ones. 
Designed to suit you
Whether you're seeking a complex, multi-hole green or a simple hole-in-one design, put your very own stamp on your home putting green by having it tailored to your practice and leisure needs. 
Convenience 
A putting green on your very own doorstep allows you to practice your swing from the comfort of home. This is especially convenient for those with mobility issues, people who are located far from their local golf club, or simply those who fancy getting in ten minutes of daily putting practice in their back garden on your own schedule – without having to make any trips. 
No mud, no mess, no mowing 
You don't need to lift a finger to maintain a home putting green when you opt for artificial grass from Easigrass Essex, which has the beautiful authentic appearance of real putting turf – but without the mud, mess and mowing. Simply put, once the green is installed at your property, it requires no maintenance from yourself to keep it looking good and performing well. 
Durable surface 
When practicing putting, it's important that you have a durable, high-performance surface to play on.
That's where Easigrass artificial grass can help. Made from the highest quality synthetic grass, it provides a robust surface that can withstand regular use. 
Physical & mental health 
It's well-known that being outdoors has a significant positive impact on mood and mental wellbeing, and a home putting green is a surefire way to get you outside and appreciating your garden. I
t's also a great way to enjoy some gentle exercise. Simply put, a home putting green is a place where sport and nature integrate to create a space to reduce your stress levels and get in some daily movement. 
Cognitive skills 
Playing golf is a great way to enhance key cognitive skills, such as concentration, strategic thinking, and problem solving – not to mention it's a chance to get better at the game and hone your abilities.  
Easigrass Essex & Hertfordshire is a leading artificial grass supplier supplying fake grass to homes and businesses across Braintree, Clacton-on-sea, Romford, Basildon, Colchester, Chelmsford & beyond.
Easigrass Essex & Hertfordshire are the UK's leading provider of artificial putting greens, custom-made for your home. Our innovative grass products are award-winning, mimicking the real look and feel of professional golf grass. Easigrass Essex & Hertfordshire also has a range of finance offers available, to help spread the cost of your new fake lawn.
To find out how we can help create your very own home putting green, please get in touch with our team today for a free survey.