Can I install artificial grass myself?
The ultra-realistic beauty of artificial grass has made it a firm favourite in gardens across the UK. For example, here at Easigrass, our award-winning lawns look and feel like the real thing, but without the need for time-consuming upkeep, making them a popular choice for home and business owners. 
And if you're benefitting from a brand new artificial lawn, you might be wondering, can I install it myself? So let's explore whether this is a practical option.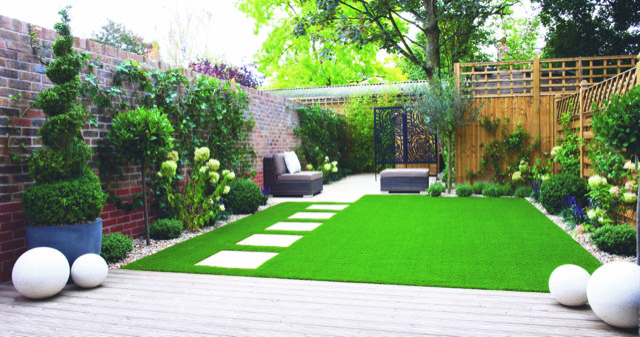 Can I install artificial grass myself?
If you're a DIY enthusiast, no doubt you've considered whether you can pull off the installation yourself. But there are a few things you need to consider first. 
While you can technically install artificial grass without help, you always run the risk of making mistakes or not pulling off the professional finish you were hoping for. This is a bit of a risk when you consider that you've already paid for a high-quality product, and so a botched installation due to your lack of experience could jeopardise the quality you've paid for. 
It might also be more difficult than you think, especially if you've never done anything like it before. A professional, on the other hand, has the skills and experience to get it done right the first time. 
Also, a big part of achieving a flawless finish lies in how well you cover up the seams. A professional company, such as Easigrass, will have the tools and knowledge to achieve a seamless result that can be used immediately – whereas a DIY installation might involve a bit of trial and error, which could end up being rather costly or time-consuming if you don't get it right the first time. 
What are the benefits of professional installation?
To guarantee a beautiful finish, it's always wise to take advantage of a professional installation. Here at Easigrass, we not only provide a wide range of award-winning artificial grass products, but we're also committed to a stunning installation with a quick turnaround. 
Some of the benefits of a professional installation include: 
Fully experienced team 

Saves you time and energy 

Flawless seams and edges 

Gets it right first time 

Removal of existing grass and earth 

Incorporation of weed-stopping geotextile 

Specialist equipment and tools 

Professional levelling 

Beautiful finish guaranteed 

Complete clean up of space 
In summary, calling in the experts to handle the installation is a weight off your shoulders as you'll be safe in the knowledge that your new artificial lawn will be professionally fitted and ready to use for maximum performance. 
Easigrass Essex is a leading artificial grass supplier supplying fake grass to homes and businesses across Braintree, Clacton-on-sea, Romford, Basildon, Colchester, Chelmsford & beyond.
Easigrass is the UK's leading supplier and installer of award-winning artificial grass products. Celebrated for their natural appearance and ability to be made pet-friendly or child-safe, our grass products are an ideal choice for homes and businesses across the country. Easigrass Essex also has a range of finance offers available, to help spread the cost of your new fake lawn. We also carry out a quick hassle-free installation at your site. Get in touch with Easigrass to find out more and to arrange a free survey.