Does artificial grass get hot in summer?
With the weather hotting up, we're all looking for ways to cool down. If you enjoy the benefits of an artificial grass lawn, or are thinking about making the switch, you might be wondering if artificial grass will get hot in summer. 
In this article, we'll explore this burning question and suggest some simple ways of keeping your artificial lawn as cool as possible in the warmer months.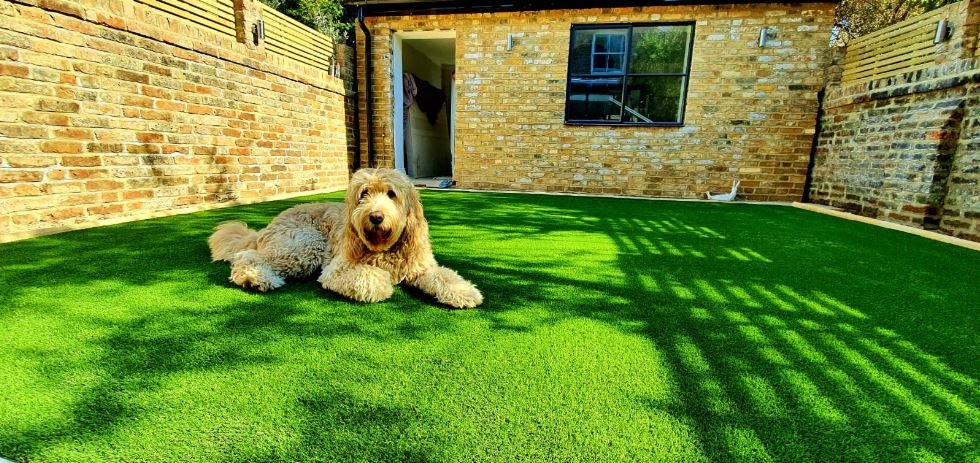 So, does artificial grass get hot in the sun?
The beauty of artificial grass is that it looks good and performs well all year round – and without the need for time-consuming maintenance. 
But will it get hot? The answer is that it will get warm in the sun, but nothing compared to concrete, asphalt or other hard landscaping materials. 
Here at Easigrass Essex, we have artificial grass products that incorporate useful technology such as heat-reducing infill, high-quality polymers, odour-eating material and shock-absorbent pads for soft play. This makes it a safe place for all the family to enjoy including dogs and children. 
And while artificial lawns can get a little hotter than real grass alternatives, luckily all it takes is a few easy tricks to keep it nice and cool, whatever the temperature. 
How can I keep artificial grass cool?
Let's take a look at how you can keep artificial lawns cool and comfortable for your little ones and furry friends. 
A cool, comfortable lawn mostly hinges on whether you choose a reputable company that can offer you heat-reducing infills. Here at Easigrass Essex, we supply our customers with award-winning artificial grass and the option of non-rubber infills and lighter-coloured infills, both of which provide a cooling effect for your lawn. We also provide a special heat-reducing ZeoFill made from 100% volcanic ash minerals, which acts by reducing the temperature of the fibres to natural-grass levels. 
A quick spray with the hose, or turning on the sprinkler for a while, can work wonders in reducing the temperature of an artificial lawn – not to mention, the kids will love it! This is also the quickest, cheapest and easiest way to quickly bring the temperature down. 
A great garden should be the perfect balance of shade and sun. This way, everyone can enjoy a bit of vitamin D while still being able to retreat into cooler areas for some respite. Awnings, canopies and outdoor umbrellas are all popular ways of introducing shady spots into your garden design to help make it a comfortable place to play, relax and entertain, regardless of the temperature. 
Easigrass Essex is a leading artificial grass supplier supplying fake grass to homes and businesses across Braintree, Clacton-on-sea, Romford, Basildon, Colchester, Chelmsford & beyond.
Easigrass Essex is the number one artificial grass supplier throughout the region. Our award-winning natural-looking grass products are perfect for all seasons, and we also have several pet-safe and child-friendly options available, including heat-reducing infills. Easigrass Essex also has a range of finance offers available, to help spread the cost of your new fake lawn. Discover more from our team today – just get in touch and we'll be happy to talk through your requirements and arrange a free survey.