How do you create a safe outdoor area for a nursery?
Let children explore and flourish in a safe outdoor environment. 
Whether you manage a nursery business or are creating a nursery area at your own home, safeguarding little ones while they play outside will be at the top of your priority list. 
But how do you build an outdoor area that protects the safety and wellbeing of toddlers and children? Let's find out.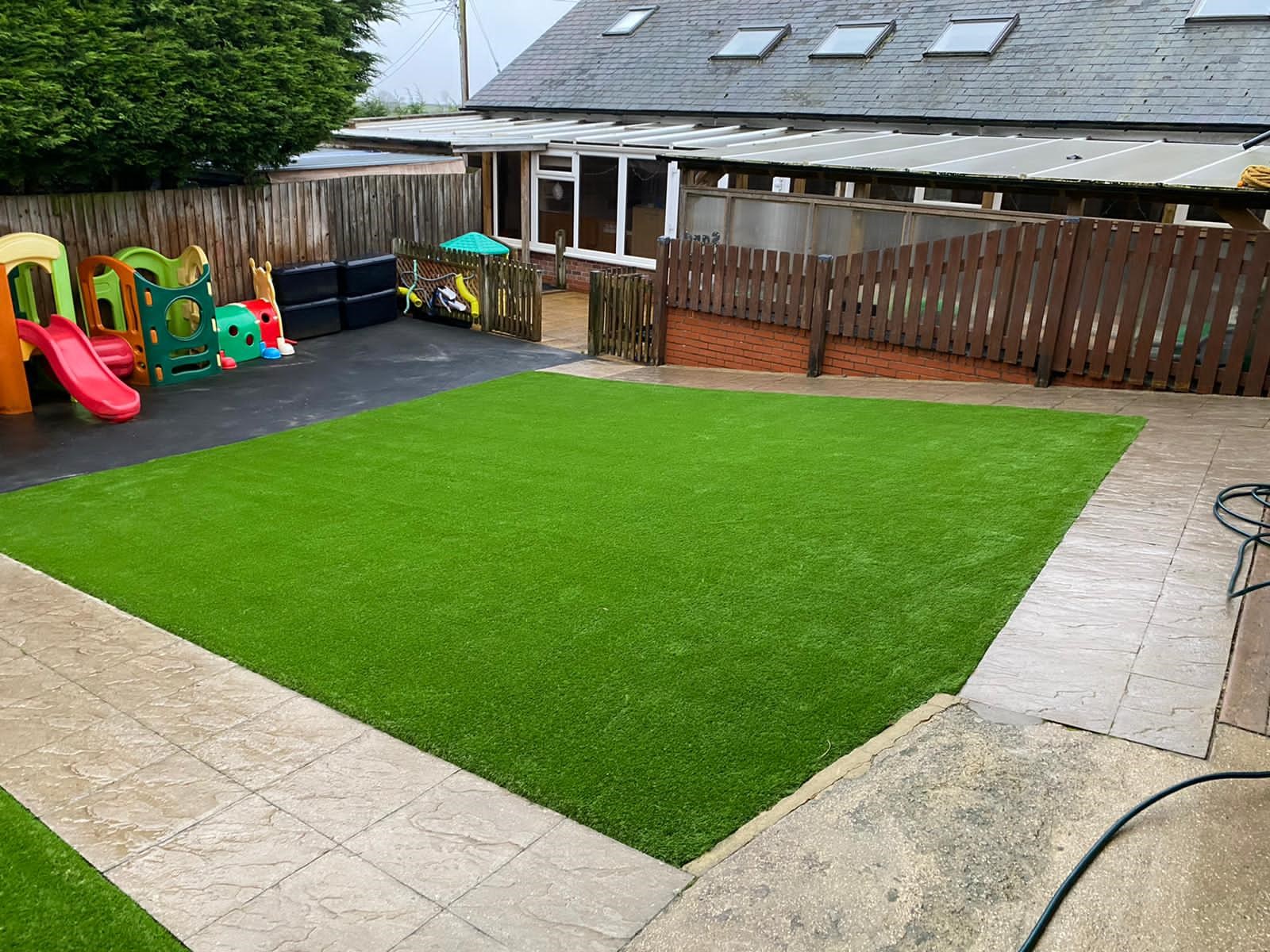 Why is the outdoors important for children?
Young children are exploratory by nature, and so spending time outdoors is an activity they will likely gravitate towards. 
Being outside is beneficial for mood and mental wellbeing, as well as giving children that all-important time to exercise and connect with nature. The outdoors is also a superb supported environment to develop independence, curiosity and confidence. 
How do you create a safe outdoor area for a nursery? 
There are some things you will need to consider when creating a child-safe space outside. 
Choose appropriate toys and props
Giving kids a little freedom to roam and explore is great, and so it's also nice to provide them with engaging props or toys. 
However, you need to make sure anything you're giving the children is age-appropriate. You also need to ensure that what you're providing is not too heavy, has no sharp areas or protrusions, and will not be small enough to become a choking hazard. Lock away any unsafe items in storage. 
Ensure there's shade
Children are especially vulnerable to the effects of weather, so make sure that your outdoor space has areas of shade and cover for those especially sunny or rainy days. This way, children can still enjoy the outdoors without being affected by the adverse effects of weather, protecting them from heatstroke and other issues. 
Remove dangers
Connecting with nature is important for a child's development, as long as it's done safely. Remove any wildlife that could pose a danger to a child. This could include nettles, poisonous plants or wasp nests. 
Dangers in structural features need to be addressed too, such as getting rid of any exposed nails, sharp corners or potential sources of splinters. Ensure that animal droppings and trash are cleaned up soon after they are left to maintain a hygienic surface for children. 
Think about terrain
Little legs are not as steady as ours. Bumpy terrain can therefore cause more problems to a young child that it would to an adult. Therefore, make sure the playing or exploration area of your nursery is as flat as possible, with any holes filled in and trip hazards such as tree roots safely removed. 
When it rains, natural grass may become a slip hazard due to mud. However, artificial grass is a handy way to sidestep this problem. Here at Easigrass Essex, our synthetic grass is soft and child-friendly, without ever becoming muddy. This means that, rain or shine, a child can enjoy the outside in safety. 
Install soft surfaces
No matter how safe an outdoor space is, nursery-age children are bound to fall from time to time. To give them a soft landing that minimises injury, consider installing artificial grass for your nursery's outdoor area. 
Our artificial grass has been specially designed and tested to be child-safe, thanks to our option for a shock-pad base along with super-thick pile heights for that added cushioning. All you need to do is explore child-friendly grass options with our experts to find the perfect match for your nursery. 
Looking for super-soft child-safe grass in Essex or Hertfordshire? Here at Easigrass Essex & Hertfordshire, we're the leading local supplier of award-winning grass products that look and feel like the real deal, while still providing those essential safety features for nurseries. 
Serving educational facilities for many years, we understand the needs and concerns of child-centred environments, and so our team is here to advise and carry out a first-class job. Contact us for a free quote!