Is Artificial Grass Good for Dogs?
In recent years, artificial turf has gone from a niche and little-known landscaping option to a mainstream alternative to natural grass.
As more and more homeowners discover the benefits that fake grass can bring to any garden, one question may be holding pet owners back from making a purchase — is artificial grass good for dogs?
With this in mind, here's an article from the team at Easigrass Essex & Hertfordshire, with everything you need to know about artificial grass and how it can benefit both you and your dogs.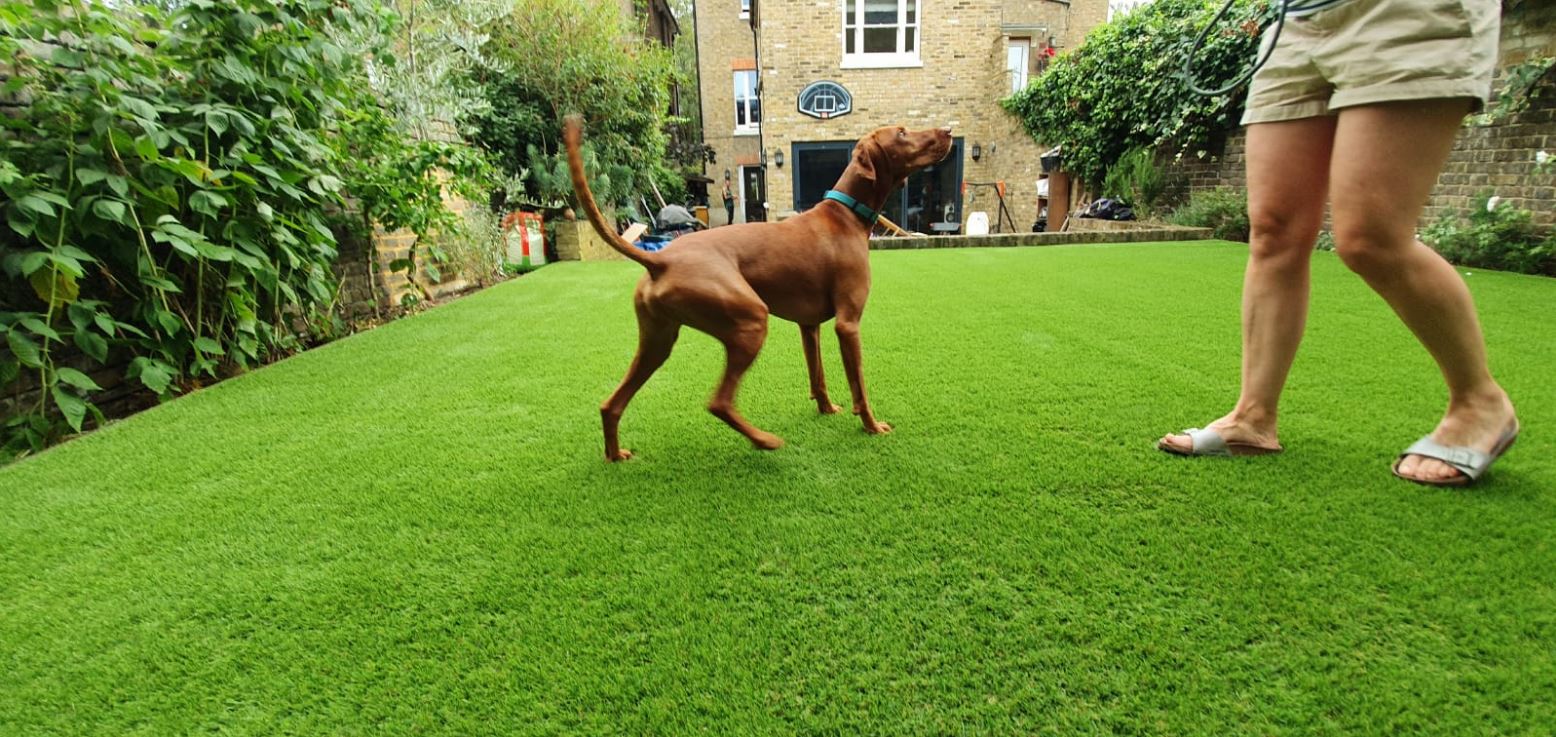 Mud free
In any pet-loving household, rainy days can be frantic and involve lots of running around after your pooches trying to remove any muddy tracks or pawprints.
Artificial grass completely eliminates this problem and will remain free of mud on even the rainiest days, providing a safe and stable surface for your dogs to play on. 
Not only does fake grass keep your pets clean and dry, but it also benefits you by ensuring that grass remains green and lush all year round. This means that your garden will continue to look pristine, no matter how vigorously your dog likes to play, 
Odour free
As much as we all love our furry friends, they can be a nuisance at times. Most dogs will consider your back garden to be their personal toilet, occasionally resulting in an unpleasant smell. 
When you choose Easigrass Essex & Hertfordshire as your artificial grass supplier of choice, our lawns feature an underlying filtration system that drains away urine.
To neutralise pet odours, we also have an EasiZEO infill option available, which uses organic volcanic ash minerals to reduce the foul smell of ammonia.
That way, you can let your dogs roam free without worrying about the mess they leave behind.
No chemicals
During periods of particularly harsh weather, you may be tempted to use fertilisers, pesticides and herbicides to keep your grass looking fresh.
However, these harsh chemicals can linger and have a detrimental effect on your pets.
With an artificial lawn, your grass will maintain a vibrant green shade without the need for these potentially harmful substances.
Not only does this ensure the safety and well-being of your beloved dogs, but it is also healthier for the surrounding environment.
Durable 
Our artificial grass is specifically formulated with durability in mind, giving you a high-quality lawn expected to last for up to 20 years.
This means that, no matter how enthusiastically your pooches play or dig, your garden will maintain a lush, green appearance with minimal wear and tear.
Artificial grass can also accommodate your pets' habits, so should your dog like to lie in the same spot every day, your lawn can compact and spring back to maintain a consistent appearance. 
How do you maintain artificial grass for dogs?
Whilst natural grass demands regular maintenance and mowing, artificial turf requires little upkeep to ensure it looks great, meaning you can spend more time playing with your pooches.
All you really need to do is pick up after your pet and hose down the area afterwards, just as you would on a natural lawn. 
However, during the summer months, it's a good idea to regularly rinse any areas where your dog goes to the toilet to prevent the urine from smelling in the heat.
You can also give your lawn the occasional sweep using a stiff brush; this helps to keep the fibres upright and collects any pet hair that may have accumulated.
You could also employ a trusted artificial grass company, like Easigrass Essex & Hertfordshire, to maximise convenience by carrying out any artificial grass maintenance on your behalf.
Here at Easigrass Essex & Hertfordshire, we supply, install and maintain artificial grass for dogs that is sure to transform your garden into a pet-friendly paradise.
To find out more about the range of products we have available or to book your artificial lawn installation in Stevenage, St Albans, Hertford and beyond, contact our friendly team today.